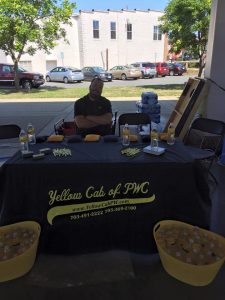 This past weekend we were involved with the Independence Empowerment Center's ADA Fair. This event celebrates the signing of the American's with Disabilities Act by President George Herbert Walker Bush on July 26th, 1990. This law was the first inclusive civil rights law that addressed the needs of the disabled population of the United States. The law was created to eliminate the obstructions that existed for those with disabilities in the areas of employment, public services, public accommodations, and telecommunications. The sweeping legislation tore down the barriers that limited those with disabilities from being active and involved citizens in their communities.
Being a part of the ADA Fair is something that we always look forward to. Dr Mary Lopez, the director of the I.E.C. (Independence Empowerment Center) has become a friend of Yellow Cab and our family. She is a wonderful, fun, and spunky lady who always makes us laugh, but has also been essential in fighting for the rights of those in the county with disabilities. It was through our interactions with the IEC, its partners, and Dr Lopez, that we decided to purchase our first accessible vans.
When you seek to be a part of something, like we do this community, and you see there is a huge unmet need, you do whatever it takes to address it in the best way you can. Our accessible vans cost more to purchase, more to insure, more to train drivers to use properly, but we pushed all of that out of our minds, went with our hearts, and did what we knew was needed and right. It was one of the best things that we have ever done. The vans have been an amazing asset to the people that need them. People now have the ability to get where they need to go without being charged the astronomical rates that previous non-emergency medical transport companies would charge. The people who drive the vans have formed friendships with the people they are driving. In some cases they have been all but formally adopted into their passenger's families. We are servicing people who truly need this transportation to be a part of their community. We cannot express in words how grateful we are to be able to provide the much needed service. We also cannot say thank you enough to the IEC and Dr. Lopez for showing us how important and necessary these services are to this community.
While hot, very hot, I mean BLAZING hot, the event was as wonderful as ever. Dr Lopez and her team at the Independence Empowerment Center always get together just the right mix of people, companies, and organizations that really care about the disabled population of Prince William County. The vendors this year were no exception. We were able to meet with our customers and discuss things we are doing to help, and things we can do to better help. There were many people there that have become old friends of our company and we were able to make new friends as well. We love the smiling faces and caring hearts we always encounter at this event. The auction is also one of our favorites and while we didn't spend as much this year, we think we were the big winners yet again!
Thank you Independence Empowerment Center and Dr. Lopez for the invitation to participate in your event again this year. We look forward to coming to many more and if you keep inviting Phat Yummies you may have to fight us not to come!